An acolyte enters the tavern, spooked to bits it seems. He sits down at the nearest table and orders a thunderbrew stout from the barkeep. Some shades sits down beside him snickering, expecting tales of horror on how this little newborn to the order has become so spooked.
The pale face stares into the air, and mumbles of the Blood Lord. A ritual has taken place, a summoning of sorts. Never before has the newborn seen such feats of darkness. The shades now no longer snickering, giving all ears to the newborn. Eager to know what the Lord has called forth from the dark abyss.
The Acolyte stuttering, pronounces only one word...
".....Hurga"
A chill passes through the room and even the veterans of the order lift their heads from the senior table. A dreadnaught rises and makes his way to the table.
"What did you say newborn! Has the master summoned our avatar of war?! Is the legend returning!?"
Gripped by fear from the deep strong voice booming through his body like tremors, the acolyte only whispers..
"Summoned indeed, but appeard did not. The lord is out in the darkness...awaiting her return.."
The dreadnaught smiles to himself..
"Haha! This is news indeed, i do hope his summon will be answered. Eat well newborn, you need strenght to grow!"
The dreadnaught returns to the senior table, where cheering can be heard and stout bursts to the air like fountains as the jugs of merry warriors collide..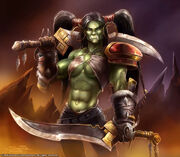 (Hurga)
((It seems the next patch is coming as soon as today or tomorrow, and for what i've seen, it will favor warriors greatly - with the ability of breaking paladin bubbles. Hurga said she might return when the tides of war blessed warriors with new strenght to counter the new expansion. This sounds like it to me, and i hope she and her troll friend Refr returns. If you see this Hurga, please do return - Noctem is going great!))